JUNGLE LAB TERROR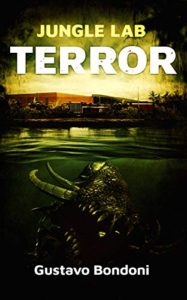 BUY IT HERE!
Amazon
Professor John Vincent is on a biological research expedition in the Darien Gap, the most dangerous place in the Western Hemisphere. The impenetrable jungle on the border of Colombia and Panama was once the haunt of drug dealers and guerrillas, but it has been quiet in recent years.

No one suspects the forces converging on them. While a Colombian revolutionary group is about to restart the drug war, a renegade scientist has established his base in the jungle. Shadowy agents from the French government are also in the area.

Hunting them all are hungry creatures brewed in the mad depths of a genetic lab.

Will anyone survive the Jungle Lab Terror?
---
PALE REFLECTION
BUY IT HERE!
Amazon 
From the Pacific surf to cold alpine glaciers and from dusty refugee camps to quaint medieval Spanish cities, the darkness within each of us knows no borders. Whether it's ultimately used for good or for evil, we never know until we look it in the face. This collection of dark fantasy by best selling writer Gustavo Bondoni delves into that darkness and forces us to stare at ourselves in the mirror to see if any trace of it resides within.
---
LOVE AND DEATH: A SERIES OF STORIES OF THE WORLD WE LIVE IN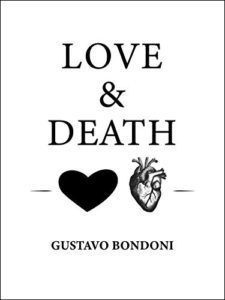 BUY IT HERE!
Amazon | Barnes & Noble
A collection of linked short stories, "Love and Death" weaves together the lives of several characters around the themes of—you guessed it—love and death. Focusing on moments that define entire lives, for good or ill, it shows us humanity at its best and at its worst. Each page holds a vivid reminder that real life is interesting and magical, if occasionally tragic. From a poor prostitute to a rich teenager to a remorseful father to an Arctic explorer, all the characters' fates are connected—if often without their knowledge.
---
OFF THE BEATEN PATH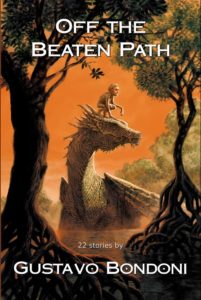 BUY IT HERE!
Amazon | Barnes & Noble
22 science fiction and fantasy stories, including two new, never-before published pieces, from the award-winning Argentinian author Gustavo Bondoni.
Set in corners of the world oft forgotten, these stories will take you from the Namib desert, to the Amazon rainforest, to the far side of the moon.
When you dare step Off the Beaten Path, the results could be catastrophic, but the possible rewards are great.
Can a small band of of scientists use robotics to save the the last of an endangered New Zealand parrot from a genetically engineered menace?
A student journalist desperately tries to save the world from a malevolent spirit using a recording of a dying old woman's last words.
A firefighter at Chernobyl finds comfort from an unexpected source.
Can an ageing musician calm the vengeful ghost of his old friend?
Were fairies responsible for humanity's oldest story?
Some of these stories will shock you with a horrifying twist; others will tug at your heartstrings with their emotional resonance. But all will intrigue and move you.
---
ICE STATION DEATH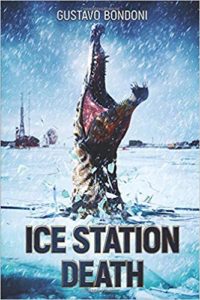 BUY IT HERE!
Amazon
All Argentine Army Colonel Javier Balzano had to do was babysit a group of scientists to Antarctica. The months spent at the Belgrano II base promised to be more tedious than dangerous. His only real concern was a mysterious undercover American observer. What might be worth observing on the frozen, empty wastes of Antarctica, no one knew.
When the base suddenly goes off air, no one is unduly concerned. Antarctic communications have always been patchy.
Then strange creatures are sighted in the surrounding seas and the crew are suddenly thrown into savage battle against prehistoric monsters and the brutal elements.
Can anyone survive Ice Station Death?
---
MALAKIAD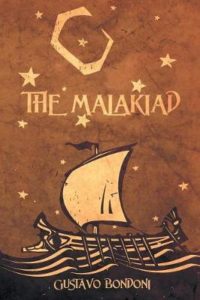 BUY IT HERE!
Amazon (print version) | Kindle | Barnes & Noble
When an old friend approaches heroic-era Greeks Kopulus and Elenia about the possibility of attacking a horrible monster in a far-off land to retrieve a divine treasure, they exchange a look and ask the obvious question: "Where can we steal a magic chariot?" The answer leads them to Mount Olympus and nearly gets them killed, so they decide to steal a fishing boat instead. In the course of sailing the seven seas (all right, just a small piece of the Aegean and perhaps a little bit of the Mediterranean), they learn that one should probably only steal fishing boats if one has at least a passing knowledge of how to navigate them. Plus, they should steal one with sails. Or perhaps one without a three-headed guard dog on it. And then things get complicated.
---
INCURSION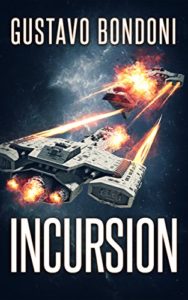 BUY IT HERE!
Amazon | Barnes & Noble | Book Depository
It was supposed to be a desperate suicide mission, a holding action designed to delay a deadly enemy bent on destroying humanity: five starships sent to their doom, thousands of men and women knowingly laying down their lives to buy time for the besieged human race.
And then things got really hairy.
Tristan, a highly trained shock marine, wakes up after the trip to find that nothing works: not his equipment, not his ship, not even his body… He joins the race against time to bring their equipment back up to fighting trim and begin to understand what has happened to them and to unravel the layers of confusion and betrayal.
But the enemy waiting for them doesn't care about any of that. They just want to destroy the human 
incursion
 as quickly as possible.
---
OUTSIDE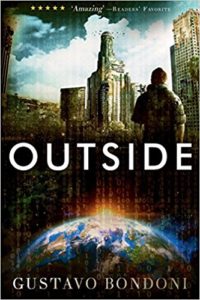 BUY IT HERE!
Amazon | Barnes & Noble
Earth is empty of humans. This surprising observation stymies Rome and his shipmates, crew of the starship come to re-establish contact from the colonies. What could have happened in the 500-years of the non-interference treaty to vanish everyone?
Meanwhile, on Earth, Emily is living her computer-simulated life, along with the rest of Earth's residents: bodies stored in vast underground chambers, minds living without disease, poverty, or pain. But dramatic change is coming to their carefully regulated virtual world. Impenetrable black walls suddenly cut off cities. Monsters appear, destroying all they touch. Emily's expertise has her on the front line of the investigation, trying to understand these frightening developments.
When Rome and Emily meet, it seems they've found the answers to each other's mysteries. But as the colonists and Earth engage in tense diplomacy, suppressed histories are revealed, and a tyrant with frightening powers rises. Together, Rome and Emily discover the terrifying secret buried deep underground that threatens the existence of everyone on Earth.
"This book is amazing…Rome and Emily are both well formed characters that stand fantastically on their own and when they come together, it's just even better…This is a fast paced, fresh, fantastic work of science fiction." —Readers' Favorite.
---
SIEGE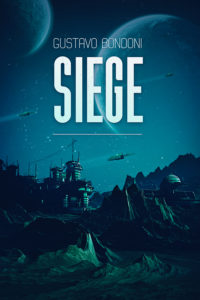 BUY IT HERE!
Amazon | Barnes & Noble
This is humanity's last stand.
Threatened on all sides by enemies they can't fight and often can't even comprehend, the human race has taken refuge in an inhospitable corner of the galaxy. A tiny pocket of habitable space concealed by black holes and dust clouds, hiding a cluster of colonies where the last humans in the galaxy reside, preparing themselves for a war of annihilation against all comers.
Crystallia is a hidden military base that guards the access route to the colonies. The main mission of the soldiers there is to remain undetected for as long as possible, to spot any incursions from the outside and to hit them with everything in humanity's arsenal.
No one is quite convinced that this strategy will be enough to save the colonies or even to create enough of a delay for some of the colonists to escape. The best bet for the human race is to remain concealed.
Unfortunately, something has found them.
---
BRANCH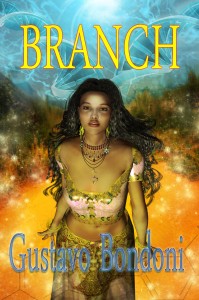 BUY IT HERE!
Amazon | Barnes & Noble
Dr David Ellers believes he's seen it all, but when one of his research doctors in an Indian village declares he's discovered a sub-branch of humanity which has evolved to be able to digest cellulose, he orders further investigation. As evidence grows, and the team finds the subjects are even more different than was originally suspected, Ellers needs to decide whether he should inform the world about his findings or protect the people who carry the mutation.
When the decision is taken from his hands by political intrigue, a chance encounter with a young mutant villager makes him realize greater issues are at stake than mere science.
---
VIRTUOSO
BUY IT HERE!
Amazon | Barnes & Noble
A Mad Artist Prepares Himself TO Work On An Unimaginable Scale As The Whole Galaxy Watches… The Man Who Solved The World's Food Problem Wonders If Other Things Might Be More Important… Virtuoso is a collection of science fiction stories from the fertile imagination of Gustavo Bndoni. Science Fiction is a journey that begins with the question "what if?", and in th collection, the reader will find it asked and answered numerous times. The answers are sometimes comforting, sometimes bewildering, and sometimes saddening, but always thought-provoking.
REVIEWS
of "Virtuoso and Other Stories":
" …On one hand I have to admire how some of the tales in this collection natter at your brain, making you wonder how the characters resolved some crisis. Good stories can do that: linger in your mind long after you've finished reading them. "
Abyss & Apex
Read Abyss & Apex full Review here
---
TENTH ORBIT AND OTHER FARAWAY PLACES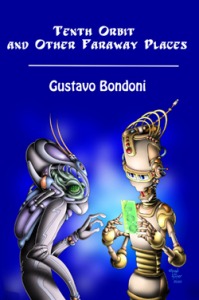 BUY IT HERE!
Amazon | Amazon Kindle | Barnes & Noble
"Tenth Orbit and Other Faraway Places" is a collection of science fiction stories which have delighted readers of various genre magazines, available together for the first time!
REVIEWS
of "Tenth Orbit and Other Faraway Places":
"…old skool SF where the premise takes centre stage without taking all day."
Peadar O'Guilín – Author of The Inferior
Read Beam Me Up´s Review here
Read Bruce Durham´s Review here
Read Todd Wheeler´s Review here
Read The Portal´s Review here
Copyrights
---
THE CURSE OF EL BASTARDO
Some might want to tag this book as quirky, wry, whimsical, witty, zany – along with other words begun by letters we rarely see at the front, for good reason I suspect. In truth we all know these words are used by pretentious people when they want to say funny. This book is funny. There, said and done. There are types of humour and this book has a few, but for all that the truth is this book made me laugh, which isn't easy, and working on it was a pleasant experience. Believe me, as an editor that is divine! As a big fan of Douglas Adams and Terry Pratchett, I'm well aware that telling jokes is one thing, writing them another. Gustavo Bondoni, or Gus as we call him, does this extremely well. The comedy is smooth. It fits, it comes in naturally and never gets in the way of the narrative. If I hadn't known better I would have thought the author British for his delivery and dry wit, and I can think of no higher praise (being British myself).
From Steven Beeho´s Introduction